We keep on with our #Let's Talk Craft Sessions, where we aim to provide a closer look to our favourite craft beer sources – the breweries themselves. This episode is dedicated to one of our long-established friendship with Oproer, Utrecht. We invited Mark Strooker – one of the two brewery founders to give his positive vision and approach to past, present and future of the craft scene in the Netherlands. They do not fool around when it comes to beer in Holland.
How did you get into craft brewing?
Like most brewers we started as beer drinkers and lovers. Inspired by the beer culture in in US we started brewing our own beers at home and it wasn't long before both of us started our own brewery. At a certain point we both wanted to grow and decided to combine our strengths and start a brew pub together in the beautiful city of Utrecht. The location that we found for this, also had a license to serve food. We decided to combine our brew pub with a vegan restaurant, which turned out to be a great success. Both the beers and the restaurant were so popular that we've been able to expand our production of beer massively and open up a separate production brewery.
The Netherlands hosts the biggest number of craft breweries in EU per m2, is there space under the sun?
There are definitely a lot of breweries in the Netherlands. Luckily for us, there are also a lot of beer lovers! While there are a few larger breweries that operate from a mostly commercial point of view, most of the smaller craft breweries just want to make really good beer. This creates a very positive atmosphere and a nice communal bond between the breweries. For example, there are six quite prominent breweries in the city of Utrecht alone. But instead of fighting for the throne, we've decided to combine forces and share our knowledge through collabs and shared events.
What is the philosophy behind your beer-making? Do you follow current tendencies or you prefer pioneering?
We tend to sail our own course, rather than following a trend. We just want to make really fucking good beer. We like strong flavors, bold hops and we like to experiment with fruit, wild yeasts and barrel aging.
Which one among your recipes makes you feel extremely proud of? Is it necessarily the one that is your bestseller? Is there such one that you found underestimated by the consumers?
I think we are proud of every beer we've made. We don't put anything out there, until we know for sure that it's a really good beer. But off course it's nice to get recognition for our hard work. Our 24/7 India Session Ale has won multiple prizes for example and our Kriek 2019 won a gold medal in the innovation category at the last Dutch Beer Challenge. Things like that do make you feel extra of a beer.
Does it feel like rivalry in your segment or it is more of a fellowship and society?
There's mostly an atmosphere of fellowship and respect. It's just a very exciting time for craft beer at the moment and there is still so much to learn. So meet others that are just as excited and eager as we are is only a big bonus of working in this industry.
What was the direct effect and most sensitive aspect of the lock down, which plans and project did you have to drop down? Did you find any positive side anyway? Do you find that the physical distancing kills the knowledge, ideas, experience and advise exchange between brewers or just the opposite?
For us, summer is an important time to meet. We have a large terrace at out brewpub, which in summertime is used by a very large amount of beer lovers to enjoy our beers. Besides that, summertime is a very busy time in terms of (beer)festivals. At beer festivals we don't just get to meet new and existing customers, but also other brewers. So we are very much looking forward to sharing a laugh and a drink with some fellow beerlovers when all this is over.
How do you foresee craft market after lockdown is down?
Hopefully it will all go back to normal, or grow even more like it has in the past couple of years. But I guess there's only one way to find out and that is let time pass by.
In NL usually hundreds of craft beer festivals taking place - how does that scene look like this season?
Though most festivals have been cancelled, some events have found creative ways to still organize fun activities. In Utrecht we have organized a Tap Tour with five other breweries for example. This is a combination of a bus tour and a beer festival. So instead of bringing all the breweries together at one location, we bring the beer loving customers to the breweries by bus. We thing this is a great example of the innovation and creativity needed in times like these. Even though it's not the same as a full scale beer festival, it was still a great success and we were very happy to be a part of it.
This year did not start the way any of us expected. Do you still believe you can catch up with your projects - any new brews happening at the moment or later in the year? Are there any new techniques or hops you will be experimenting with?
Innovation and creativity is super important to us, so we are going to keep doing what we do best and that is make new beers! We've recently introduced a gluten-free twin sister for our Refuse/Resist Imperial IPA: Against The Grain. And in a few weeks our new RUIG project will be ready to go from barrel to bottle. This beer will be a blend of beers ripened on three different Bordeaux barrels and a Tres Hombres rum barrel and will be named Hang The Bishop. So it's safe to say we haven't sat still during the lock down!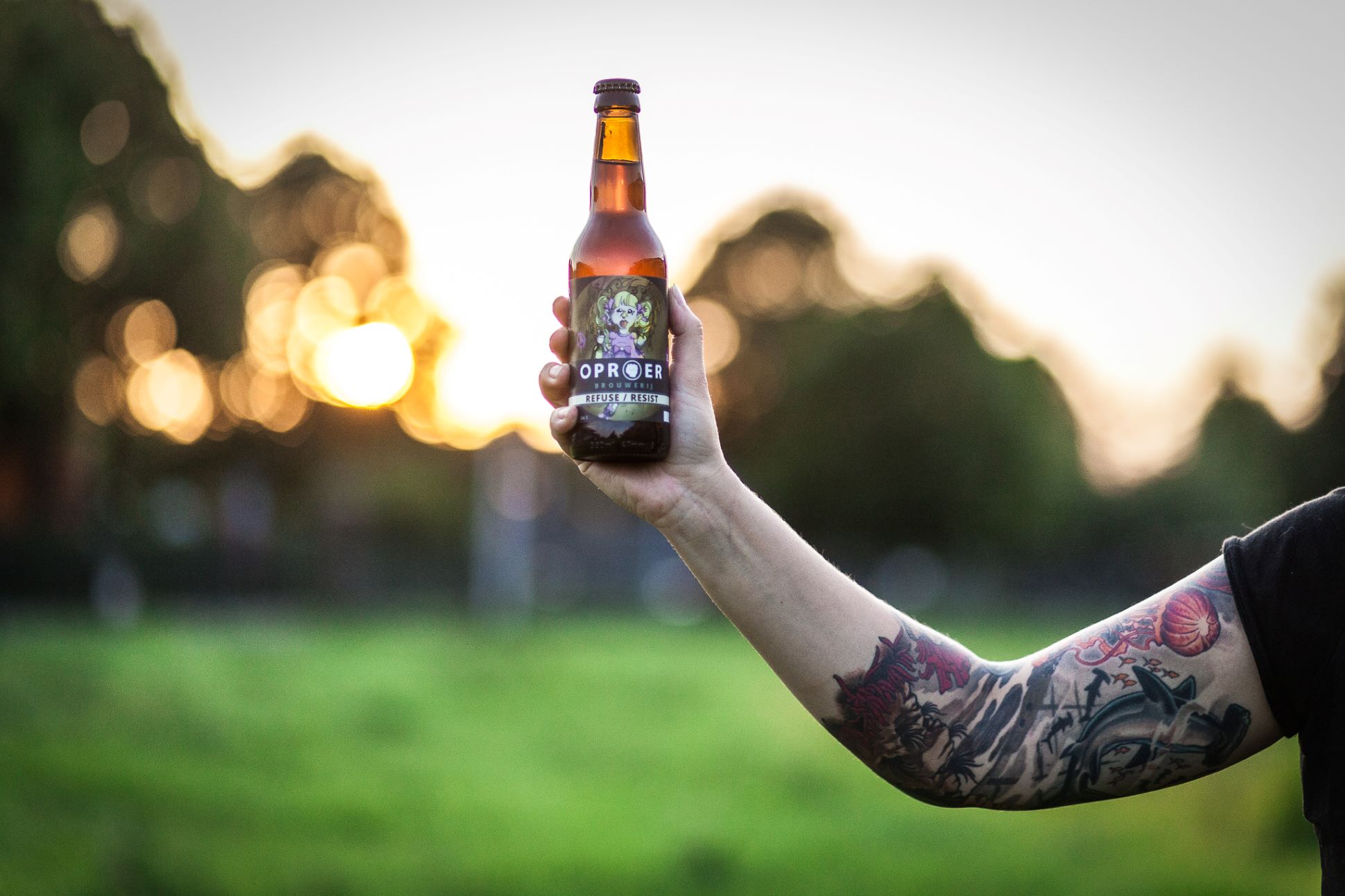 Which beer impressed you from another brewery this year or not so distant past?
Something that really stood out this year, was a amount of popularity gained by alcohol free beers. Dry January has never been as popular, which in part might have been because there are actually a couple of very decent alcohol free beers out there nowadays, like de Playground IPA from VandeStreek and the Energibajer by Mikkeller.
Mark Strooker
Questions by Deyan Hristakiev